Our Solution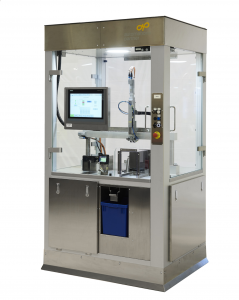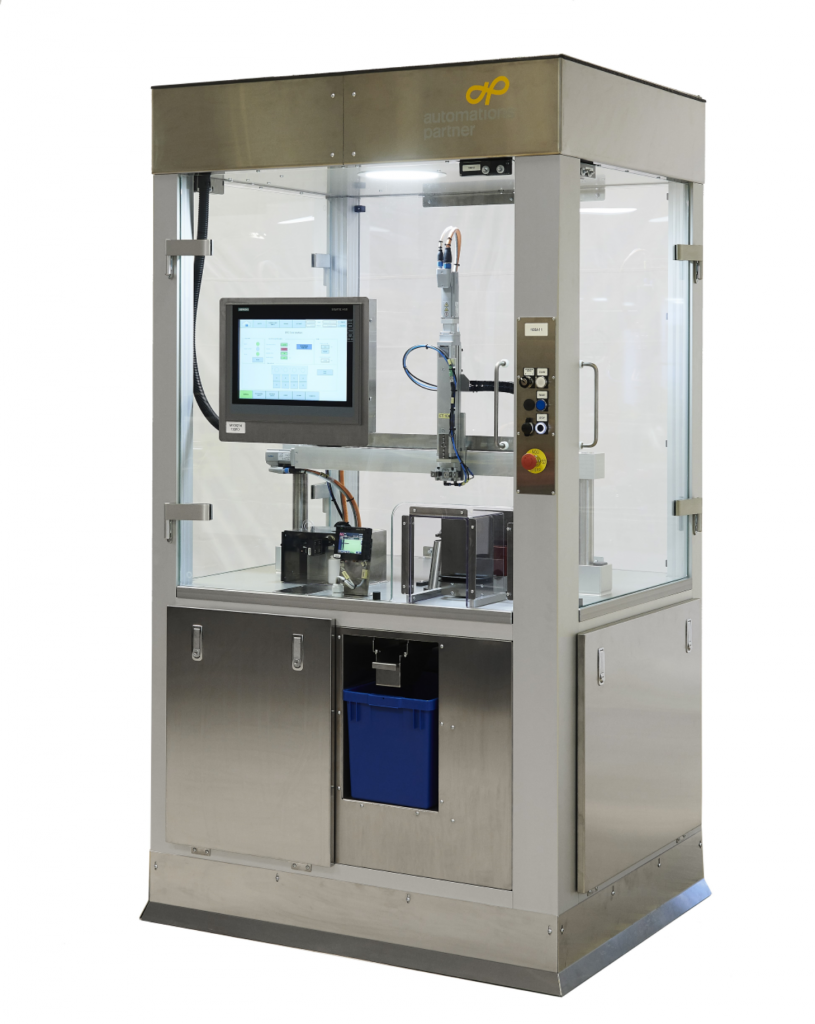 The SA-41 automated autoinjector and syringe test system from Automationspartner ensures a precise product quality control and is easy to operate. The SA-41 fulfills requirements by relevant authorities which state that pre-filled syringes and autoinjectors must be tested by the legal manufacturer prior to batch release. The test system for autoinjectors is designed for GMP production environments. AP also offers the same functionality in automated in-line process control (IPC) systems, integrated into our autoinjector assembly lines. Testing of prefilled syringes can be combined in the same platform or can be offered as a stand alone solution.
Autoinjector and Syringe Test System Technology
Function
Autoinjectors are loaded into the machine. The machine collects one product at a time for testing. The protective cap is removed and the force is measured and verified against pre-set values. The vision system triggers a timer when the injection starts and measures the time to completed injection. The activation force of the device is measured and verified. The length of the needle is measured by the vision system. The dispensed fluid is measured by a precision scale and the volume is calculated automatically from the pre-set liquid density value.
Standard Injector Tests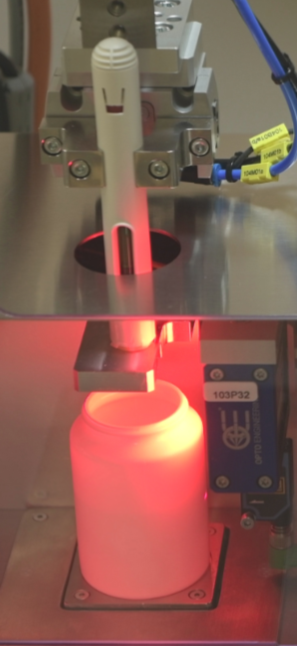 Activation force — Needle cover activation or push button
Injection time — Liquid dispensing time measurement)
Dose accuracy — Precise weighing of dispensed liquid
Injection depth — Measurement of needle extension during liquid dispensing
Protective cap removal force
Standard Syringe Tests
Needle shield removal force
Break loose force
Glide force
Dose accuracy — Precise weighing of dispensed liquid

Optional Tests and Functions
Graphs of test values – High speed sampling accuracy
Secure encrypted communication to other systems (OPC-UA)
Verification of correct product thru barcode or QR-code
Customer defined number of devices to be loaded
Product in-feed from trays
Benefits
Easy to use and designed for use in clean-room production
Standard automation components ensure a flexible solution
Easy to adapt to specific customer requirements
PLC platform ensures software stability
Platform
CE machinery directive compliant
Designed for cleanroom (

ISO

class 8)
Aluminium frame
Cabinet with frameless laminated toughened glass
Electrical cabinets fitted inside the frame
Automation & Software
Siemens PLC & HMI
CFR 21 part 11 with audit trail
Siemens servo motors
Omron FHV7 vision system
Mettler Toledo scales and loadcells
Digital test reports (digitally signed by operator)
Autoinjector and Syringe Test System Footprint
The SA-41 automated autoinjector and syringe test system is compact with a small footprint.