We have over 25 years of experience designing and constructing fully automated IV catheter assembly solutions within the medical industry. We have delivered more than 300 catheter assembly machines to customers all over the world. With our accumulated experience, we know what it takes to build profitable IV catheter assembly lines and continuously deliver world-class medical equipment.
Fully automatic IV catheter assembly and production
We manufacture fully automatic IV catheter production lines, tip forming and IV catheter assembly machines. We manufacture machines that can be equipped to produce fluorinated ethylene propylene (FEP) and/or polyurethane (PUR) catheters. A typical IV catheter assembly machine has these characteristics:
Category: IV Catheter
Capacity: 60 parts/min
Types of IV Catheters: Ported, Non-Ported and Y-style
Tube materials:

FEP

and/or

PUR

We offer development services and standard machine solutions in these areas:
Catheter tip-forming methods
Fast and high quality
The most important component in tip-forming is the rapid and precise temperature control of the AP RF power generator. Our generator uses electromagnetic induction to reach precise temperatures in only 0.4 seconds. Furthermore, the total cycle completes within three seconds. This technology makes our tip-forming machines compact and high capacity.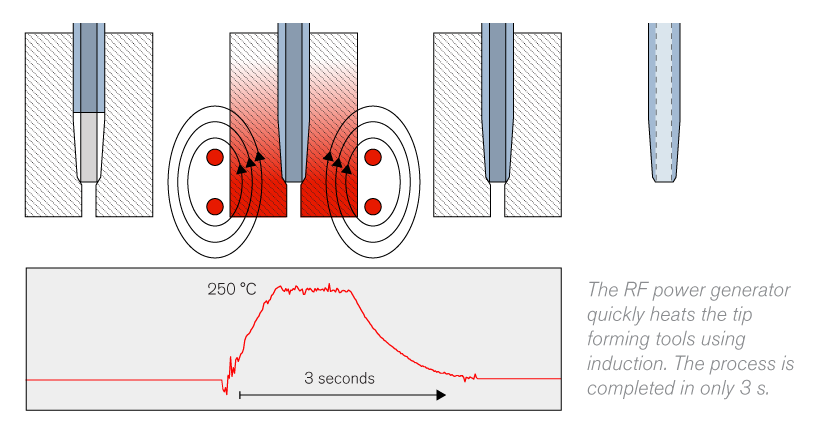 Low maintenance costs
Automationspartner's tip-forming machines use a pure thermoforming process. The molding method is very gentle with the tip tool, compared to the common cut-off method, which is a combined thermoforming and mechanical forming process where the tip mandrel cuts and twists the catheter. Our molding method reduces wear and tear and keeps costs very low.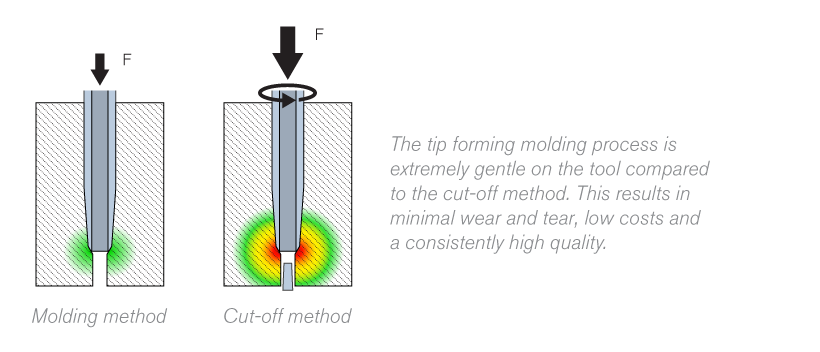 Design services – Catheter Tip
Tip design services
The catheter tip design and quality are two of the most important factors in superior IV access. Automationspartner offers tip design services which include design, prototyping, testing, and documentation.
Penetration forces and risk of peel back
Our tip geometry evaluation is based on results from penetration and peel-back testing. The tip design is optimized based on these two results.
Automationspartner tip design services include
| | | | |
| --- | --- | --- | --- |
| | | | |
| Tip geometry design in cooperation with the customer | Prototyping in AP Tip Laboratory | Penetration and peel-back testing | Report with conclusions and recommendations |
Semi-automated production systems for IV catheters
Automationspartner offers a wide range of tip-forming machines within the IV catheter segment. Our mid-range tip-forming machines are based on a modular platform that can be customized by the customer depending on their unique situation. Contact us today to find out how we can create a custom, modular solution for you.
Mid-range tip-formers
The mid-range tip-formers consist of two levels of equipment with different features to suit your customers' unique situations.
IV Advantage (Semi-automatic)
IV Excellence (Fully automatic)
Precision cutting and lubrication
Precision cutting and lubrication
Tip-forming in

FEP

(Molding method)
Tip-forming in

PUR

and

FEP

(Molding method)
Manually in and out load by the operator
Automatic in and out load from palette system
Camera inspection and HMI Basic system
Camera inspection and HMI Advanced system
Staffing: 1 person/shift
Staffing: 0.2 person/shift
Capacity: 20–25 ppm
Capacity: 24–27 ppm

IV Excellence features a high-resolution vision inspection system for easy examination of tip forming results.
Fully automated production systems for IV catheters
Automationspartner (AP) offers a wide range of production equipment within the IV Catheter program. AP IV Catheter full production line is the most advanced offer in the program with high capacity and world-class performance.
Full-range catheter assembly production lines
AP Full-range production lines offer IV catheter sizes from 26 G up to 18 G with traditional Y-adapters and straight adapters. The line can run both FEP and/or PUR catheters, and it can also be adapted for needle-free versions of IV catheters. The production lines are upgradable to most of the common needle tip protected versions (safety).
Our Solution: High runner or Flexible setup
The IV catheter assembly production line contains five different sections that are individually separated by connection trough buffering systems. The lines are available in a high-runner setup and a flexible setup when many gauge sizes should be run in the same assembly line. Each section can be purchased separately for customers that want to scale-up their production step-by-step.
High Runner Setup

Flexible Setup